The experience
Your session driving one of our ATV's begins with a driver briefing along with getting fitted with the provided safety equipment. The use of personal safety equipment is allowed but must be of an approved standard. During the driver briefing, the safety rules will be discussed and you will have the opportunity to ask any other questions you may have. This is especially helpful for first time drivers.
For smaller people we use electric ATV's which are ridden on their own track. Our staff keep an eye on things to ensure that help, if needed, is always at hand. A session consists of 4 laps around the circuit.
For bigger people we have petrol ATV's which have plenty of power to get your blood pumping. Adults and older children can ride on their own or adult and one child can share an ATV. Our staff will be positioned along the track to assist you if so needed.
The Tracks
Small track: The small ATV track was designed for our beginner riders. Although more basic, it's sure to please as it takes our little riders through our Khao yai speedkart farm. After completing a few laps around the farm, the rider will be given some grass to finish off the session by feeding some of the farm animals.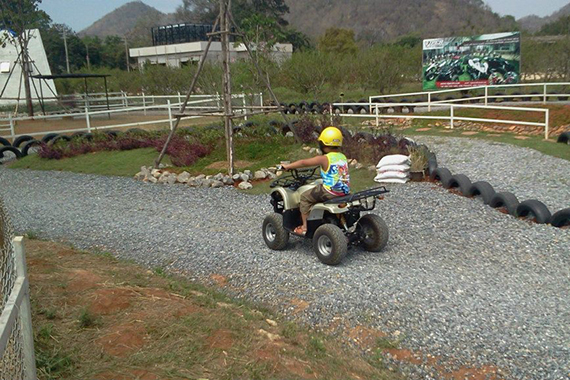 Large track: An extended circuit which consists of tarmac, dirt-track and water. Warm up on the tarmac so you get a feel for the ATV's then venture off onto the dirt-track. Slow down and keep your feet up as you go through the water section. Keep riding along the trail and you will come to a metal bridge. Carefully navigate your way over and find yourself in the middle of the go-kart track. Work your way round and back over the bridge and head on back. Stop and catch your breath while you feed the animals.